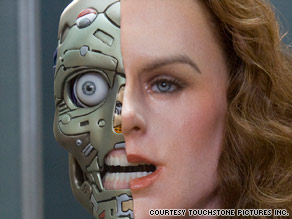 How would you like to control your own personal robot to do your bidding? The new movie Surrogates, starring Bruce Willis, takes this concept to extremes. In the movie, humans link their minds to a robot and control them directly. This is a bit different than being converted to a cyborg like Ray Kurzweil predicts.
As CNN reports:
"Surrogates" director Jonathan Mostow, whose film credits include 2003's "Terminator 3: Rise of the Machines," said he was drawn to the concept of surrogate robots as an extension of current technology. And, he said, as he met with scientists, he became convinced that something approaching the concept could one day be a reality.
It seems like the concept of "old fashioned" humanoid robots is  finally becoming outdated. I wonder how Isaac Asimov would feel? It is one thing to boss around a robot using the Second Law of Robotics, but actually mind-melding with one, or becoming one is completely different. The main dilemma in Surrogates is that someone found a way to fry someone's brain before they were able to jack out of the robot they were controlling. This concept is very old, dating back to the old Virtual Reality plots. I was very interested in the movie when I first saw the trailer, but after reading some lackluster reviews, I think I might just wait for DVD.
The critics could be wrong though. Do any of you think I should give it a chance?
Check out the full article via CNN for more information. I found it to be an interesting read.