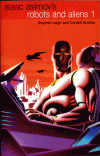 One thing I like about this book is there is a nice eight page synopsis of the whole Robot City series. Even after just reading the series, it was a nice refresher for the events leading up to Robots and Aliens. This new series involves Asimov's challenge to the authors to describe what might happen if robots encountered an alien species. How would they treat them? How would the Three Laws apply?
I particularly enjoyed this first book because it addresses one of the main questions I had regarding the Three Laws of Robotics. What does the key phrase "human being" actually mean? Throughout Asimov's books and it is explained that the laws aren't as simple as the English translation. They are complicated sets of positronic potentials that govern every action of a robot.
In Changeling, Stephen Leigh describes a robot model that is given a very simple definition of "intelligent life form" as an equivalent. This idea seems to work very well in this book and after several chapters we see how this experiment intersects with the Robot City plotlines. Also, we get to see Derec use the powers he was given to control Robot City. One thing that did bug me a little bit was how little of the main plotlines was advanced.