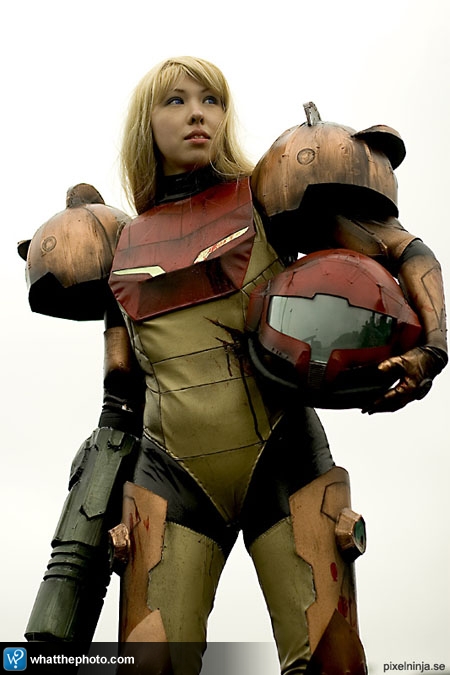 So it looks like all of the crazy costumes are popping out of the woodwork now that Halloween is coming around again. Brain Alien over at What the Photo brings this pic to my attention again. It brings back memories. No, not those of Sith Vixen in her Femtrooper outfit, which by the way is one of my TOP incoming links on Google (currently ranked #1 for image search).
The memories it brings back to me are those of my first Nintendo games. Every once in a while I get nostalgic, and feel the urge to play my old games. Metroid and Legend of Zelda were my first two "console" games. I earned the money for my NES and games through my own sweat (TRUE, I lived in Phoenix, AZ) and blood (not so true) delivering newspapers in the summer during my spare time. OK, that's a story my wife's heard way too many times, so I'll move on. I still have my original NES and all of my games boxed up in long term storage. If I feel the need to play, I whip out my trusty emulator, but not everyone has access to the ROMs or the patience to get and emulator working right.
I knew that a few years ago the Nintendo's patent on the NES expired in the US around 2006 or so. Since then a site called VirtualNES popped up. I didn't realize it, but according to some very sound arguments, their site is legal. . Consider it a free online arcade. If you've never played Metroid, check it out!
Play Metroid Online — note, requires Java plugin
Controls:
| | Controller 1 | Controller 2 |
| --- | --- | --- |
| Left | Left Button | NumberPad 4 |
| Right | Right Button | NumberPad 6 |
| Up | Up Button | NumberPad 8 |
| Down | Down Button | NumberPad 2 |
| Select | Right Control Button | NumberPad 3 |
| Start | Enter / Return Key | NumberPad 1 |
| A | X | NumberPad 7 |
| B | Z | NumberPad 9 |