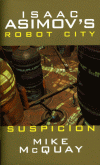 This review will most likely contain spoilers for any previous books in the series, read at your own risk.
After escaping from the alien Aranimas, and subsequently the space station that rescued them, Derec and Katherine find themselves miraculously transported to Robot City. They used the Key to Perihelion, a device that somehow allowed them to travel instantly across the galaxy. I like this idea because it is twist on space travel that allows the authors to work out unique plot elements throughout the rest of the series. Derec and Katherine arrive to find themselves the only 2 suspects in the murder of a human in a city full of robots.
It seems they've just traded one prison for another. Since they are the only humans on the planet, according to logic the robots think that one of them must have commited the murder, because no robot could have. This book revolves around Derec and Katherine's investigation into the murder they are accused of at the end of Odyssey. Suspicion reminds me a bit of Elijah Baley's murder investigations in Asimov's original Robot Novels. The style is notably different, but the murder-mystery element kept me thinking back to the originals.