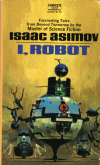 The Three Laws of Robotics
A robot may not injure a human being, or, through inaction, allow a human being to come to harm.
A robot must obey the orders given it by human beings except where such orders would conflict with the First Law.
A robot must protect its own existence as long as such protection does not conflict with the First or Second Law.
First things first, the Hollywood movie I, Robot (also reviewed) with Will Smith has only has a few things in common with this book of short stories. Keep in mind that the NAME was licensed to the movie studio after the script was already written. Scenes were adjusted to include the Three Laws, Susan Calvin, and Alfred Lanning. That is about where the similarities between the book and the movie end. There might be a few concepts stripped from some of the stories, but by no means is the film "based" on the book. To give the movie makers credit, they only say "inspired" by in the opening.
I, Robot is a collection of short stories by Isaac Asimov. Keep in mind these stories were mainly written in the 1940s then published together in 1950. These stories describe the basics of the Three Laws of Robotics and what can go wrong with them. Asimov uses the Three Laws as a literary device to create puzzling situations. Several of these stories involve Susan Calvin, the top robo-psychologist for the only robot manufacturing company, US Robots and Mechanical Men, Inc. If anyone is interested in reading the Robot Novel series, this book kind of acts as a nice introduction to the basic concepts. As a matter of fact, anyone with any interest in Sci-Fi should read this book. I consider it required reading.