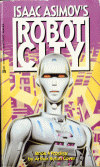 This review will most likely contain spoilers for any previous books in the series, read at your own risk.
Derec and Ariel (previously known as Katherine) finally were able to track down the cyborg known as Jeff Leong. The Human Medical Team of robots was able to repair Jeff's body and place his brain back inside. They let Jeff use the escape pod Mandlebrot and Wolruf landed with to fly home and send for help if possible. Until then, they are all still stuck in Robot City.
This book revolves around a robotic renaissance that has emerged in Robot City. Derec and Ariel spot a huge new building that looks more like artwork than anything else. During their investigation they find robots that wonder what it is like to be human, comedians, artists, etc. In the midst of all this a robot is murdered and Derec must find the killer and figure out why these robots acting so differently. I'd say out of the series this is one of my favorite books because it reminds me a bit of the Bicentennial Man short story by Asimov.