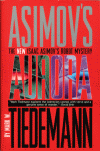 If Chimera was more complicated than Mirage, then Aurora is at least that much more complicated than Chimera was. Tiedemann does a good job of weaving between four main plot lines: Derec and Ariel, Coren Lanra, Mia Daventri, and Masid Vorian. There have been severe repercussions following the aftermath that took place at the end of Chimera. Derec and Ariel are recalled to Aurora at the beginning of this book. Ariel which has become romantic with Coren Lanra must leave him behind. Coren soon begins an investigation of his own. Mia works to uncover the inner workings of smuggling through the Nova Levis blockade. Masid Vorian also begins an investigation but as a spy on Nova Levis itself.
Each of the plot lines interacts with each other throughout the novel and eventually gets tied together toward the end. I got a sense of satisfaction at the end that I didn't have at the end of the Robots and Aliens series. I must say that I am pleasantly surprised that I didn't remember many of the big spoilers in this series after 4 years. I was definitely surprised at the ending. Sometimes I wonder exactly how much information we actually do remember from experiences over the years.
A common theme which has been explored in many other novels so far is the discussion of what it means to be "human". At what point does an organism cease to be considered human? There is a major backlash on Aurora since the discovery of actual working cyborgs. These types of cyborgs are much different than that of Robot City Book 3 which was merely a human brain in a robot body. The cyborgs in this series are genetically altered and intertwined with organic and positronic components. This makes classification much more difficult, and the differences in opinion are explored in this book.