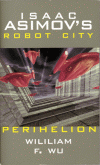 As I stated in the general Robot City review, Isaac Asimov's introduction to this book contains some major spoilers for the novel. Especially if you are reading the entire robot series in chronological order, I suggest not reading Asimov's introduction unless you have finished both this novel and Robots and Empire. There are many spoilers for the rest of the Robot Novel series by Asimov also. This review will most likely contain spoilers for any previous books in the Robot City series, read at your own risk.
Doctors on Earth were able to cure Ariel of her sickness, but her memory was lost. Derec has shown signs of a sickness also, but doctors have assured him it is not what Ariel had. They finally escape and eventually Derec, Ariel, Mandelbrot, and Wolruf decide to return to Robot City to attempt to find a cure for Derec.
This book concentrates mainly on answering most of the questions that were developed in the rest of the series. Robot City appears to have covered the entire surface of the planet at this point. Derec must find out what Dr. Avery has done to him with the help of his friends. Some things are left unanswered, which frustrated me a bit. This seems a bit fitting because the climax opens the door for the next series, Robots and Aliens.